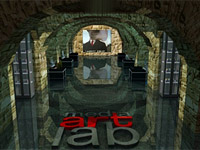 24 and 25 of March MediaArtLab and Theatre of Nations presented "Media Museum Virtual Theatre" — special programme in the frame of 2 Moscow Biennale of Contemporary Art.
Moscow Biennale of Contemporary art Parallel Program 2
MediaArtLab Center for Art and Culture and the Theatre of Nations present
Media Museum Virtual Theatre
WHAT IS THE MEDIA MUSEUM
In October 2007 MediaArtLab opens the Media Museum. This is an absolutely new kind of a museum — a laboratory to generate new creative ideas combined with a library, cinema and exhibition space. A contemporary artwork is a complex organism it is impossible to study through illustrations only. The audience has to watch it in movement and in space, to hear it work and to get an exhaustive commentary on its context.
MEDIA MUSEUM VIRTUAL THEATRE
Introducing media art works into museum space means not only their technical preservation but also work with the environment of their representation. In this aspect the theatre is media culture's paradise. In the theatre media history has actually began for it is here that message virtualization technologies have developed for centuries. Afterwards these new reproduction technologies have made theatre itself virtual, turning it into cinema. As the final evolutionary stage cinematograph comes back to theatre to look at itself from a different perspective.
During two nights at the Theatre of Nations the audience will be introduced to a range of films reflecting the process, and also contemporary plastic performances, a synthesis of dance and media context. These performances reduce media to stage props and decompose it using performative artistic strategies. The program researches contemporary post technological media history which is closely connected with contemporary methods of artistic, musical, plastic, visual and technological expression.
VIRTUAL THEATRE, TECHNOLOGY AND ARTIST exhibition project. March 24th— 25th
On entering the theatre, the audience finds itself before Media Museum's virtual portal. By using the touch activated stand you can navigate through various parts of the Museum or find and activate media art works to watch on the plasma panel. Further on, in the first floor lobby, the video art collection is presented for the viewer on several screens. The collection demonstrates various stages of evolution in both Western and Russian media culture and includes works by Nam June Paik, Richard Serra, Marina Abramovitz, Alexei Isaev, Giya Rigvava, Sinij Sup (the Blue Soup group), AES and many others. The exhibition also includes video installations such as Kyrill Chyolushkin's work — a unique video sculpture made from a one—piece foam plastic block onto which 3D video images are projected.
MEDIA MUSEUM VIRTUAL THEATRE VIDEO PROGRAMS
The programs present major works by the stars of video and media art — artists from Russia, Central and Eastern Europe, USA, Australia, Japan and China. The audience will be introduced to video art works combining ingeniously visual, plastic, conceptual and audio images into a whole.
Works from MediaArtLab's Mediatheque; Centre Pompidou, France; Montevideo/Time Based Arts Netherlands Media Art Institute; the Zentrum fur Kunst and Mediatechnologie, Karlsruhe, Germany; the Vasulka Archive, Santa Fe, USA; Electronic Arts Intermix, New York, USA; Anthology Film Archives, New York, USA; LUX, London, UK and 235 Media GmbH, Berlin, Germany will be shown.
ATTRACTIONS PARK
At the beginning of the last century Sergei Eisenstein composed a manifesto based on his theatre work experience. This experience he realized in the cinema as the theory and practice of montage. It has since become an integral part of culture's gene pool but nobody could expect this manifesto to be still relevant in the beginning of the 21st century. However it is at the moment realized in films, TV shows and interactive art projects. This program has collected an "attraction park" of contemporary technologies in experimental film, video art, theatre and interactive art.
Works by Vito Acconchi, USA; Steve Dickson, UK; Steina and Woody Vasulka, USA; Berue, France; Evan Siebens, Canada; Nam June Paik, Charlotte Murman, USA; Joanne Greenfield, USA and Jeffrey Show, Germany.
THE DIALOGUE
Communication is just as vital as breathing — it is a basic necessity of life. It is as unconditional as nature's laws: you place two people (or two animals) into a common space, they start a relationship. Human—to—human interaction as well as interaction between humans and animals has in reality developed into a close and complex automatism and we are all equipped with an ultra sensitive broadcast and reception organ for The Other. This video program is a diagram of sorts — it shows all manners and forms of relationships and interactions, a video collection to show us an enlarged image of our own behavior.
Works by G. Wood, P. Harrison, UK; Mark Bane, USA; g: Jens Lien, Norway; Pieter Baan Muller, The Netherlands; Bart Dijkmen, the Netherlands; Alicia Framis, Spain/The Netherlands and Robert Arnold, The Czech Republic/USA.
MOVING IMAGES
On retrospection, the moving images were last century's most important invention. For a long time they belonged to the so called mass media. Moving pictures, having first appeared in the variety theatre and then in the cinema and on television became the visual images to confuse our perceptions. Is reality becoming fiction or is fiction turning into reality?
Works by Isabel Martin, Spain; Pierre-Yves Cloin, France; Hartmut Jahan, Germany; Clodette Lemay, Canada; William Wegman, USA; Jozef Rotakovsky, Poland; Werther Germondari, Italy; Eric Olofsen, the Netherlands; Eliza Fernbach, UK and others.
ALSO SHOWN ON MARCH 24th, 2007:
THE BRIDE'S GIFT
Performed by the Ohne Zucker dance project.
Production: Daria Busovkina, Taras Burnashev.
We are waiting for the film to start, trying to guess what its title means. It will begin shortly and we'll have to try on another reality at the other side of the screen. Shot after shot the plot develops, but we won't be able to stop the film to reflect on the events even for a moment. We wait for the film to start and the chain of events cannot be broken or turned back. There will be no gifts but there will be love —a bit strange, a bit mad. It will divide life and death by a narrow line, like a knife's edge. We are waiting for the film to start.
The Ohne Zucker dance project was created by Daria Busovkina and Taras Burnashev — independent dancers and choreographers. In their performances various dance techniques are playfully mixed, well—known and new theatre devices used, the action includes video and elements of performance. A skillful combination of the ingredients creates a special style, distinguishing the theatre from many others.
Performance by the SOUNDRAMA studio
SOUNDRAMA is not just a studio uniting musicians, actors and artists, but a new school of theatre and music, based on synthesis of these two arts.
MARCH 25th 2007
LA MENTIRA
a film by Wim Vandekeybus, Belgium, 1993.
A film by the Belgian theatre director, who created one of the most important works in the field of video and dance synthesis. The action takes place partly in Antwerp, partly in a desolate landscape near Granada in Spain.
Wim Vandekeybus evokes drama out of the aesthetic conflict between plastic, music and space. The performance of "What the Body Does Not Remember" according to the critics was characterized by "a brutal competition between the dance and the music, a militant aggressive landscape showing what the body does not, indeed, remember". Together with Walter Verdin and Octavio Sturbe, Vandekeybus has produced "Roseland" — a video in which the dance was performed in an unusual but effective setting of a derelict Brussels cinema. In "Her Body Doesn't Fit Her Soul" he used blind dancers. This performance, as well as other Vandekeybus' works was given various awards at many European and international festivals.
THE HEAVEN'S FOREST BYCAPONIA
Vinogradov & Aleksei Group.
The folklore of Great Zakozye and Yasherovo performed by the aborigines of megapolis. A highly explosive mixture of antichristian Russian with nanotechnology, going to…
The project reintroduces into contemporary culture an archaic phenomenon — a complete action of human behavior and sound extraction.
Aleksei Bortnichuk — guitar (former of Zvuki Mu and Mamontov & Aleksei)
German BYCAPO Vinogradov — everything else.
THE THREE KOMARINSKIJS
a film by Dmitry Bulnygin
The first video art documentary on Russian contemporary
Choreographed by: Tatiana Baganova, Sasha Pepelyaev and Olga Pona.
THE SCHEDULE
March 24th
19.30 — Virtual theatre, technology and artist exhibition
20.00 — "The Bride's Gift" performed by the Ohne Zucker dance project.
21.00 — Media Museum Virtual Theatre video program
21.30 — Performance by the SOUNDRAMA studio
March 25th
19.30 — Virtual theatre, technology and artist exhibition
20.00 — Media Museum Virtual Theatre video program
20.45 — "The Heaven's Forest Bycaponia" performed by Vinogradov & Aleksei Group
21.15 — LA MENTIRA, Wim Vandekeybus, Belgium
22.00 — THE THREE KOMARINSKIJS, Dmitry Bulnygin