Mobile cinema at St. Petersburg, Palace Square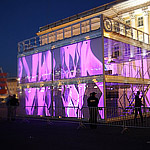 21—25 June, 2012
St. Petersburg, Palace Square
Collaboration with JSC "Rostelecom"
From 21 to 25 June 2012 in St. Petersburg in Palace Square was built a unique structure - a mobile glass pavilion. All the day it worked as a news center, but in the evening turned into an art object – works of Russian and foreign media and video artists were projected on its walls. The program included works by: Francois Vogel, Tony Hill, Ilya Korobkov, Paul Clipson, Erik Olofsen, Perry Bard, Galina Shevchenko, Arev Manoukian, Roman Mokrov, Nina Kurtela, Robert Arnold, Chris Oakley, Evann Siebens.
---
François Vogel is a French photographer and filmmaker, born 1971. Until 1993 he studied in the video department of the fine arts faculty at the Ecole Nationale Supérieure des Arts Décoratifs (ENSAD) while taking courses in Applied Computer Programming at the Conservatoire National des Arts et Métiers. 1994-95 editor and cartoon animator for the Fearless Studio, Paris. 1995-96 studied at the Atelier d'Images et d'Informatique de l'ENSAD, 2D and 3D animation specialist at Mikros image (Paris) in 1996. His artistic work with the medium video, begun in 1991, has gradually evolved into an experimentation crossing borders between video, animation and photography.
Faux plafond
1999, 5'30"
During the night of a full moon, a couple can't get to sleep. A series of domestic incidents will propel the man and woman into a curious trip to the moon. A real or virtual trip... Only the spectator will be able to tell.
---
Born in 1970. Lives in Moscow. Videoartist, independent publisher and lecturer in the Moscow's Rodchenko School of Photography and Multimedia. Member of independent group of video artists called VIDIOT, producer and publisher of the videomagazine with the same name.
To joy
2009, 5'50"
The artist draws a parallel between the struggle of the Soviet people for a new equitable world, where all people are brothers, and the new united Europe - the community of responsible citizens that create and propagate human values. It's no accident that the "Ode to Joy" was chosen as the anthem of united Europe. It's a fragment of Beethoven's Ninth Symphony. And it was inspired by the ode by Friedrich Schiller, which glorify brotherhood and unity of people.
---
Born in London in 1946, studied Architecture and Sculpture. He taught film and video from 1982 until 2002 at the University of Derby becoming Professor of Film and has been teaching at Plymouth College of Art since 2004. Tony makes experimental short films that are somewhere between sculpture and cinema. He also works with installations, photography and sound. He has presented his work at many Art Galleries and in Film Festivals worldwide.
He's the winner of the Deutscher Videokunstpreis 1993 & the Audience Prize at Chateauroux with the film "A Short History of the Wheel". Also video was broadcasted in Germany, Finland, Holland, Australia, France, Spain and the UK. Screened at many festivals worldwide.

A Short History of the Wheel
1992, 1'00"
An exercise in visual relativity in the form of a journey through space and time with the wheel. Starting with a primitive hand-drawn cart and moving through horsepower and machine age tractor and car to the ultimate wheeled transport, the bicycle.
---
Perry is an artist who works with electronic media and lives in New York. Her public video installations are site specific and address cultural history and memory, often involving local community members in the production process. She has exhibited video and installations internationally at Museum of Modern Art, New York, Sao Paolo Biennial, VideoBrasil, 25th Viper, Switzerland amongst others.
Man With a Movie Camera: The Global Remake
66'00"
This web and public space project is a participatory video shot by people around the world who are invited to record images interpreting the original script of Vertov's Man With A Movie Camera and upload them to site dziga.perrybard.net. Anyone can upload footage. When the work streams your contribution becomes part of a worldwide montage, in Vertov's terms the "decoding of life as it is".
---
Galina is a Moscow born, Chicago based multimedia artist. The artist, VJ, works in the genre of video art. Galina's work has been shown at numerous venues nationally and internationally, including international Art Fairs in Miami and Chicago, Museum of Contemporary Art Chicago, Berlin's Director's Lounge Video Festival, New York's Red Shift Film Festival, Chicago's Motion Graphics Festival, Media ART LAB segment of Moscow International Film Festival, where her work took a second Prize in 2007.
Dancing with Mondrian
In collaboration with Spencer Baker
2006, 4'44''
Geometry and flesh, muscul curves and perfect rectangles clash and dissolve in this infinite tease. Echoes of modernity and traces of classical past coexist and feed each other with moves and volumes, lines and shadows, emotions and jestures.
---
Raised in a family of artists and engineers in Montreal, Arev Manoukian plays with art and technology to tell stories in ways that challenge his imagination. After studying film in Toronto, Arev soon began directing music videos for local bands which went to air on Much Music. Lately, he has directed interactive jobs for clients such as Mazda, Axe, Wrigley Gum, 20th Century Fox and the NFL. Arev directed Nokia's interactive commercial "The Passenger", a Cannes Cyber Lions and One Show finalist.
Nuit Blanche
2009, 4'41"
Nuit Blanche explores a fleeting moment between two strangers, revealing their brief connection in a hyper real fantasy.
---
Born in 1986 in Elektrougli, Russia. He has graduated from the School of Contemporary Art "Free Workshops" in the MMSI and the Institute of Contemporary Arts (ICA Moscow). He was one of the finalists and received a special award in the national competition for contemporary art "Innovation" 2012 and Special jury mention in International Festival of Video Art "NOW & POTOM'12", MMOMA. In 2012 artist had solo exhibition at the Moscow Museum of Modern Art. Also he participated in several group exhibitions in the NCCA, CHA, MMOMA, etc.
The Endless Story
2011, 6'44"
Every day Moscow takes in thousands and thousands of people, who come here with different goals. Often a trip to Moscow is the road to happiness. Or the search for happiness. But if you ride Russian Railways' trains into Moscow from the suburbs, it's an expensive one too, and most people are forced to find a way to avoid that, such as holes in the fence. There is the endless melancholic stream of people go through it. They don't think about the problem. They united only in its determination to get to Moscow.
---
Nina is a performance artist born in 1981 in Zagreb, Croatia (former Yugoslavia). She works and lives between Berlin and Zagreb and thinking and creating in relation between visual arts, video, performance and contemporary dance and choreography.
Transformance
Durational performance 22.02.2010 – 07.08. 2010
2010, 8'15"
Documentation of durational performance took place in a space that has been reconstructed from an old warehouse into dance center in Wedding, Berlin. She was taking every working day around 200 portrait photos in transforming surrounding of construction site from exactly the same position, placing herself in the middle of the site.
---
Chris lives and works in Great Britain. Holding a BA in Fine Art and an MA in Time-Based Media. He resumed his career as an artist in 2003, since which time he has exhibited works in video widely across Europe and worldwide. Recent achievements include exhibition at MoCA Los Angeles and the installation of work at Transmadiale'05 in Berlin.
The Catalogue
2004, 5'30"
"The Catalogue" is a symbolic rendering of the logic of a computerized market research system, which classifies individuals using a wide variety of data in order to assess their buying power and their future needs. The identity of each individual is reduced to the analysis and prediction of his or her consumption habits. The title of the work highlights the fact that each individual who meets the automatic eye of the video camera is entered in a database, a catalogue in which each person must be assigned to predetermined categories, thus assuming his or her place in the system
---
Paul is an San Francisco based artist and director of experimental cinema exclusively with a Super8 camera. . His works usually include the projected installation, as well as joint performances with the use of sound, often improvised.
Light from the Mesa
2010, 6'00 "
The film is based on the format of Super 8 film. It consists largely of improvisation. The artist creates an image-illusion show of music and poetry, mesmerizing and bewitching the viewer. So, blind symbiosis of sound and image forming unity with the assembled audience, which is considered as a witness.
---
Robert was born in 1954 in New Jersey, USA, and lives in Boston where he teaches film at Boston University. He obtained a BFA in Sculpture from the University of Illinois in 1977, an MA from the University of Iowa in 1980 and a PhD in Film Studies from the University of Iowa in 1994. His works have been widely exhibited and he has received numerous awards, including the Best Animated/Experiment Film, Boston Underground Film Festival (2002); Grand Prix, Video forms International Video & Multimedia Festival, France (2000); Best Experimental Film, Uppsala International Short Film Festival, Sweden (1999).
The Morphology of Desire
1998, 5'45"
Video explores romantic love in popular culture illustrated on the covers of dime-store, romance novels.
---
Born in 1970 in the Netherlands. His works usually integrate different medias such as sculpture, video, photographs and sound. Olofsen graduated from the Rietveld Academy in 1998 and was an artist in residence at the Rijks Academy in Amsterdam, IASPIS in Stockholm, Chambre Blanche in Quebec, Bilbao Arte and CEAC in Xiamen. His works were internationally shown in institutions such as GEM Museum in Den Haag, Palais des Beaux Arts in Brussels, Tirana Biennial, ARoS kunstmuseum in Aarhus, KulturBahnhof in Kassel. He has received several awards including the prestigious Dutch Prix de Rome for sculpture/installation in 2003, the Golden Cube for best installation at the Kasseler Documentarfilm und Videofest in 2007, the Spanish Vida 08 international prize of Fundacion Telefonica in 2005.


In Places
2004. 4' 30''
A man jumps from the sky, but it remains safe and without any scathe. Town buildings from foam soften his fall.
---
Born in Canada. Lives and works in USA. Evann specializes in making media about movement. Her short films, documentaries and media installations have been shown at venues such as Eyebeam, Centre Pompidou, MOMA, The Hammer Museum, Lincoln Centre. A former dancer with the National Ballet of Canada and the Bonn Ballet in Germany, Evann graduated from New York University. Now based in Vancouver, Evann recently co-curated and shared artistic direction for ContainR, featured during the 2010 Vancouver Olympic Games. Evann recently attended a residency in London, England at Acme and, along with her partner Keith H Doyle exhibited a media installation at the HotShoe Gallery, London.
image/Word.not_a_pipe
2003, 10'00''
A lone man in an overcoat and bowler hat is obscurely displaced as he dances on a deserted windy beach, over a grassy knoll and through a crowded street. The figure represents Magritte's familiar symbol of the "Everyman." Kinetic and fast, the film uses surrealist techniques, frames within frames, dynamic text, and familiar objects that float around the dancer—an apple, a pipe, an umbrella—to transform the image beyond the real. The live dancer, represented by the same "Everyman," also comments on the signifier versus the signified, the danced image versus the dancer. Michel Foucault's text «Ceci n'est pas une pipe» is referenced by transposing words and images into code patterns from programming language in order to explore the distinction between similitude and resemblance.